UPBRINGING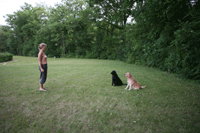 Basic upbringing :

You are a member of a club, but you think

- that the upbringing of your dog is not going fast enough,
- that the teachers can't spend the necessary time to answer all your questions,
- that trainings within a group have too many different levels together,
- or you have a specific problem you want to sort out (your dog is pulling on the leash, doesn't pay enough attention to you, is not coming back when you call him...)

So I propose you the ideal solution, private courses that will give you the bases you require to evoluate rapidly with your animal and understand better the mecanisms of canine education.

After only few hours you will already see a great improvement.

On the arrival of your new companion, puppy or adult, I will help you and guide you through the right things to do.
It is always easier to do things properly from the start and avoid bad experiences rather than trying to erase a bad habit later!

Price: 60.- / hour (+ km)

Obligatory courses

Obligatory theorical courses :

Before the arrival of a dog in your family, the law ask, if you never had a dog registered under your name in Switzerland before, that you follow 4 hours of theorical course with a recognised dog educator.
I can do this theorical training with you, in private sessions, in order to answer better to your individual questions and to help you with a decision that will really change your life !

At the end of these 4 hours, you will receive the official attestation of Futur Dog Owner (in French " Futur Propriétaire de Chien" (FPC).

Price: 200.-

Obligatory practical courses :

Once he gets a new dog, each owner has to do, with his dog, 4 hours of dog training, this in the first year of acquisition.

I will do these 4 hours training with you, during which we will go through the bases of education of a family dog, as for example socialisation, walk on leash, come back, different positions (sit, down) or stay...

This training will be done in the countryside and in town, in private sessions, to better answer individual needs.

At the end of these 4 hours, you will receive the official attestation of Owner of a New Dog (in French " Propriétaire d'un Nouveau Chien " (PNC).

Price: 200.-


After you have done these 4 hours upbringing, I really advise that you go on with the education and the socialisation of your dog, this in order to consolidate the link you have with him and why won't you join a canine club in the area, or even begin a dog activity like agility, dog-dancing, or any other one...